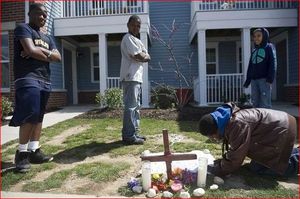 Camden - Neighbors are seeking an apology from Camden police after a Friday night incident in which they say a dog was shot by officers who were carelessly firing on a street crowded with children.
The dog was killed around 9 p.m. Friday after officers responded to calls of a fight between teenagers in the Baldwin Run neighborhood of the city's Rosedale section.
But neighbors are also concerned by what they said is an excessive use of force after bullet holes were found sprayed around the neighborhood. Shots went through through the walls and windows of a home four houses away and punched holes in several vehicles parked in nearby driveways.