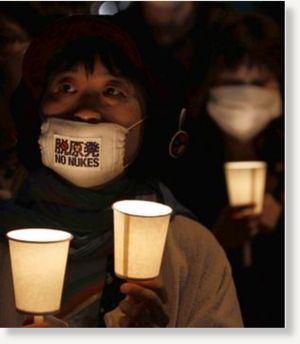 Fishermen, students, workers and small-town officials publicly blame Tepco and the government.
Kenji Kadota long followed the dual credo drilled into him during childhood: Hide your anger and trust the powers that be.
Yet in the wake of last month's triple whammy of earthquake, tsunami and radiation release, the 55-year-old construction chief has thrown all such cultural lessons out the window.
Kadota faults the firm that runs the crippled Fukushima Daiichi power plant for its mishandling of the nuclear crisis that has followed the March 11 natural disasters. He believes dithering public officials have compounded the public's anxiety by withholding information about the true dangers facing people who live near the plant.
So for the first time in his life, Kadota is speaking up. He's joined a growing chorus of college students, ruddy-faced fishermen, small-town mayors and even a combative prefecture governor voicing dissatisfaction in a manner highly uncommon in a nation known for taking politeness to the extreme.
"Japanese are raised to keep their feelings to themselves, but now that's impossible," said Kadota, who complained that officials failed to deliver water and emergency supplies to his hometown of Iwaki, not far from the stricken plant. "We've been abandoned. And I am angry."