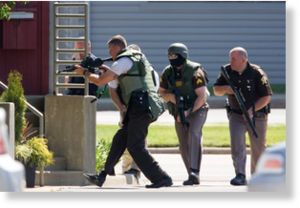 Valparaiso, Indiana - A Texas man who took hostages in a northwestern Indiana realty office and held police at bay for several hours suffered three gunshot wounds before dying, likely from two different weapons, a coroner said Saturday.
Roy L. Ferguson, 48, of Fulshear, Texas, died at 6:30 p.m. Friday, Porter County Coroner Chuck Harris said. That was two hours after the end of the nearly seven-hour standoff at Prudential Executive Group Real Estate office in Valparaiso, about 40 miles southeast of Chicago.
"The likelihood of all three gunshot wounds coming from the same weapon is not good," Harris said. He said that wouldn't be confirmed until an autopsy is performed. It had not yet been scheduled because of Memorial Day weekend.
Valparaiso Police spokesman Sgt. Michael Grennes said Saturday that Ferguson had only one firearm - a handgun. Grennes also said the SWAT officers who rushed inside the office after hearing gunshots at 4:30 p.m. did not fire on Ferguson, but officers exchanged gunfire with Ferguson when the standoff started.
Asked Saturday if police had shot Ferguson, Grennes said, "It's under investigation."
The Times of Munster
posted a video report on its website showing police officers crawling through a window of a Valparaiso house owned and rented out by Ferguson to execute a search warrant. The newspaper said Ferguson moved to Texas about four years ago after his wife died.