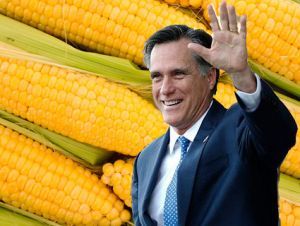 Today, Monsanto looms over the global ag landscape like a colossus. It is the
globe's largest seed purveyor
- and its dominant vendor of genetically modified traits. How dominant? Here's
NPR
on the company's mastery over the US GMO market: "More than 9 out of 10 soybean seeds carry [Monsanto's] Roundup Ready trait. It's about the same for cotton and just a little lower for corn." It also sells nearly
$1 billion worth of herbicides every three months
.
But for all its clout, Monsanto is a relatively new player in the Big Ag game. While fellow ag giants like ADM, Cargill, Bunge, and BASF have been in the game for a century or more, as recently as the late 1970s Monsanto was known mostly as a chemical company; herbicides were a relatively small sideline, and genetically modified seeds were just the gleam in the eye of a few scientists in the R&D department. And its flagship chemical business had plunged into crisis. In 1976, Congress banned the highly toxic industrial coolant PCB - the US production of which Monsanto had enjoyed what the
Washington Post
called a "lucrative four-decade monopoly."
According to the
Post
, Monsanto had been actively covering up the dangers of PCB exposure for years before the ban, opening the company to a
thicket of lawsuits
.
To make matters worse, the company had also been heavily invested in the toxic pesticide DDT (banned in 1972) and the infamous Vietnam War defoliant Agent Orange - both of which carried their own legal and public-relations liabilities.
How did Monsanto pivot from teetering, scandal-ridden chemical giant to mighty high-tech (though still quite controversial) agribiz firm? As the veteran investigative reporter (and
Mother Jones
contributor) Wayne Barrett shows in a new
Nation article
, a young consultant called Mitt Romney helped push the firm on its highly lucrative new path.