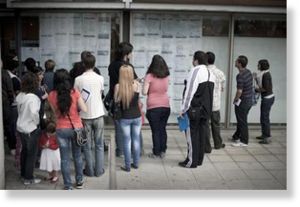 Euro zone unemployment has hit a record high, and job losses are likely to keep climbing as the bloc's devastating debt crisis eats away at businesses' ability to hire workers while indebted governments continue to cut staff.
Around 17.4 million people were out of work in the 17-nation euro zone in April, or 11 percent of the working population, the highest level since records began in 1995, the EU's statistics office Eurostat said on Friday.
"This 11 percent level is going to continue edging up in the coming months and probably until the end of the year," said Francois Cabau, an economist at Barclays Capital who sees the euro zone's economy contracting 0.1 percent this year.
"The economic activity situation tells you the story of the labor market. There's been basically no economic growth since the fourth quarter of last year and indicators are pointing to very weak growth momentum for the second quarter," he said.