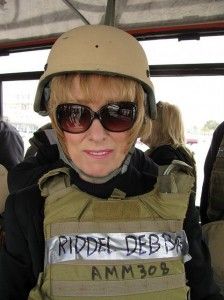 Texas Rep. Debbie Riddle (R) was apparently infuriated by the unclassified Red Team report which detailed the abusive behavior of American soldiers against their Afghan military allies [ANSF] and Afghan citizens.
The Red Team report said that ANSF members found many U.S. soldiers to be "extremely arrogant, bullying, unwilling to listen to their advice, and were often seen as lacking concern for civilian and ANSF safety during combat."
The Red Team report described vulgar and crude acts the American soldiers engaged in, such as urinating in public, cussing, disrespecting women and bullying people during night raids.
Rep. Riddle was not offended by the actions of American soldiers
, but rather by the conclusion of the Red Team report which recommended sensitivity training for American soldiers in Afghanistan.
According to the thedailydolt.com, Rep. Riddle wrote on her Facebook:
"Our soldiers do NOT need to be taught how to be sensitive to radical Muslims. They do not need to be worried about blowing their nose wrong or using their left hand and offending someone. . . . They should not be bothered with being sensitive to people who want us all dead! We need a true leader in the White House - a vote for Obama is a vote to destroy our country."