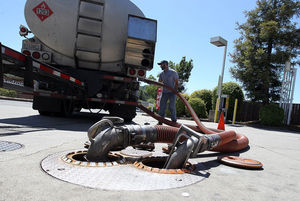 Gasoline station owners in the Los Angeles area including
Costco Wholesale Corp. (COST)
are beginning to shut pumps as the state's oil refiners started rationing supplies and spot prices surged to a record.
Valero Energy Corp. (VLO)
stopped selling gasoline on the spot, or wholesale, market in Southern
California
and is allocating deliveries to customers.
Exxon Mobil Corp. (XOM)
is also rationing fuel to U.S. West Coast terminal customers. Costco's outlet in Simi Valley, 40 miles (64 kilometers) northwest of Los Angeles, ran out of regular gasoline yesterday and was selling premium fuel at the price of regular.
The gasoline shortage "feels like a hurricane to me, but it's the West Coast," Jeff Cole, Costco's vice president of gasoline, said by telephone yesterday. "We're obviously extremely disheartened that we are unable to do this, and we're pulling fuel from all corners of California to fix this."
Spot gasoline in
Los Angeles
has surged $1 a gallon this week to a record $1.45 a gallon premium versus gasoline futures traded on the
New York Mercantile Exchange
, data compiled by Bloomberg show. That's the highest level for the fuel since at least November 2007, when Bloomberg began publishing prices there. On an outright basis, the fuel has jumped to $4.3929 a gallon.