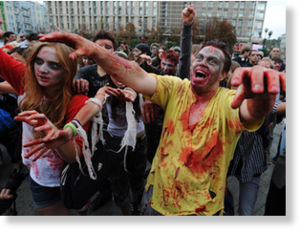 Authorities in the Siberian city of Omsk ban have reversed their decision and decided to ban a 'Zombie Parade' after criticism from the Orthodox Church and other public organizations.
The organizer of the youth event Mikhail Yakovlev, said the city administration named three reasons for their decision.
"Firstly, I supposedly failed to notify them in time. Secondly, I did not submit a program of the event. I did both things, though. But the third reason is most shocking: they said the Zombie Parade contradicts the Russian Constitution and the Human Rights Declaration," he told Metromsk news portal.
However, in a private conversation with an employee of Omsk's district administration, Yakovlev found out that the 'raising of the dead' was frowned on by a number of organizations, including the local Orthodox Church and the Muslim Community.
"The' Zombie Parade' bears no ideological or protest meaning: it is simply an entertainment for youngsters," Yakovlev told RIA Novosti.The event - which was planned for August 19 - was officially announced as a costume exhibition. About a hundred people - disguised as zombies and smeared with artificial blood - were to march through Omsk's central street and then have a photo shoot.