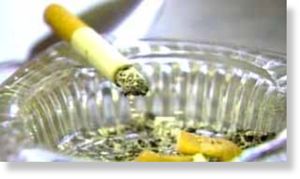 Health Canada has unveiled a new set of gruesome images to adorn cigarette packages.
The
Toronto Sun
calls the new warning labels, replacing those first mandated in 2000, the toughest the Canadian tobacco market has ever seen.
Under new guidelines
first announced in March
, the warnings must cover three quarters of cigarette and little cigar (cigarillo) packages, up from 50 per cent under the previous rules.
Health Minister Leona Aglukkaq said larger warnings are intended to "better reach people with low literacy levels, heavy smokers, and people thinking about quitting," the
Sun
reported.
"As a result of action taken by our government, smoking rates in Canada are at an all-time low."
The war on tobacco has been non-partisan, with Progressive Conservatives, Liberals and now the laissez-faire Conservatives committed to reducing smoking rates and their inevitable health costs.