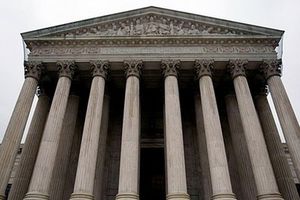 Washington - The U.S. Supreme Court on Monday upheld the main provision of Arizona's crackdown on illegal immigrants but threw out three other parts, handing partial victories to President Barack Obama in his challenge to the law and to the measure's conservative supporters.
In an important test of whether federal or state governments have the power to enforce immigration laws,
the top U.S. court unanimously upheld the statute's most controversial aspect, a requirement that police officers check the immigration status of people they stop, even for minor offenses such as jay-walking.
But in a split ruling, the court also struck down other provisions of the southwestern U.S. state's 2010 law, the first of its kind in the country, that the Obama administration had challenged in court. The votes on those provisions were 5-3 or 6-2, with the more conservative justices in dissent.
These three provisions required immigrants to carry immigration papers at all times, banned illegal immigrants from soliciting work in public places, and allowed police arrests of immigrants without warrants if officers believed they committed crimes that would make them deportable.