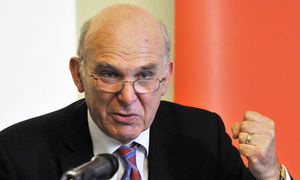 Bosses preside over 'moral quagmire', says business secretary, as Barclays chief Bob Diamond is summoned to face MPs
Vince Cable has urged shareholders in UK banks to rise up and purge their companies of corrupt executives, who he says have allowed "systemic abuse" to take root in the banking system.
The business secretary,
writing
in the
Observer
says it is now clear that no one at
Barclays
Capital, the investment bank that triggered the market-rigging scandal, is prepared to take responsibility for endemic corruption, so the ultimate owners of banks must take matters into their own hands.
Describing the problems in UK banking as "a moral quagmire of almost biblical proportions",
Cable says the government is taking urgent action, including creating a clearer separation between "casino-style investment banking" and retail banking on the high street. Ministers will this week begin a review into the Libor system under which banks lend to each other and Cable hints that US-style criminal sanctions, such as the threat of prison terms, could be considered against those who abuse it.
But he says shareholder power will be crucial. "Regulators are a backstop: they don't own banks," he writes. "The governance at the top of our leading banks has been shown to be lamentably weak. No one at the top of Barclays will take responsibility for systemic abuse.
"Shareholders, the owners, have a major responsibility here. I am bringing in legislation to strengthen their control over pay and bonuses, through binding votes, but shareholders have to get a stronger grip on weak boards and out-of-control executives."