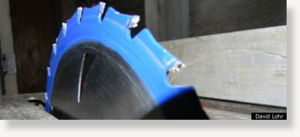 Authorities on Massachusetts' South Shore are investigating an apparent bizarre murder-suicide with a power saw that left a husband and wife dead.
The alleged crime was revealed at approximately 10 p.m. on Monday, when police officers in the historic town of Plymouth, located about 40 miles south of Boston, were dispatched to a residence on Farmhurst Road. Out-of-state family members had been unable to reach the residents, Keith Lincoln, 49, and his wife, Jettie, 46, for several days and requested a well-being check.
Upon arrival, officers announced their presence at the door. When they peered through a window of the home they were able to see Keith Lincoln standing in the living room area. It was at that point, the Plymouth District Attorney's office said, that officers observed Lincoln "pick up a power circular saw, inflicting serious injury to one of his legs."
The officers immediately forced entry into the home and provided first-aid to Lincoln. When paramedics arrived on the scene, they transported him to Jordan Hospital in Plymouth, where he was pronounced dead, police said.
The full extent of the horrific scene became evident to police when they conducted a cursory search of the home, at which time they located a deceased female, believed to be Jettie Lincoln, as well as two deceased dogs.