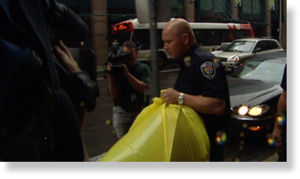 Canada - An Ottawa coroner has confirmed a package delivered Tuesday to the Conservative Party of Canada's headquarters in downtown Ottawa contained a human foot.
Police removed the foot in a yellow bag during the early evening from the 12th floor of 130 Albert St. after a day-long investigation.
Police were called to the building at 11:20 a.m. ET after a suspicious package was delivered there. Police called for the hazardous materials unit after they noticed what appeared to be blood on the package.
The Hazmat Unit and Emergency Operations Section inspected the package and determined that there was possibly a human foot in the box, police said
Ottawa police Staff Sgt. Bruce Pirt said major crimes investigators have taken over the HAZMAT call because if it is a human foot, "There's a body without one."