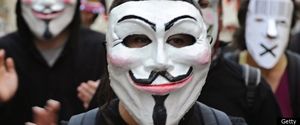 Here's the thing about the secret international brotherhood of Internet bandits called Anonymous: It's kind of hard to get an interview with them. When you offer revolutionary groups a chance to say their piece to a mass audience, they generally get back to you within two to three hours, but Anonymous isn't a group.
Or that's what they'd say, anyway, if you could get them to talk. Most of the time they don't talk, except in 1980s robot voices. But more on that later.
There's been a lot of curiosity about Anonymous lately, and fortunately for the inquiring journalist, lots of non-anonymous people have been talking about them. The most recent flurry of chatter began on Friday, when police in Spain said they'd
hunted down three members
of the group (or the alliance, or whatever you want to call them). Anonymous had incurred Spain's wrath back in March by temporarily knocking out the website of the national government.