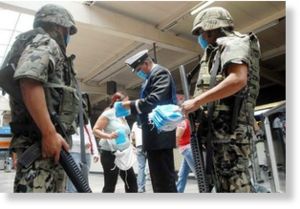 Batten down the hatches, grab your flimsy face mask!
Just as Sott.net editors were putting the finishing touches to the April's edition of 'Connecting the Dots' (a fairly standard month as months go here on the BBM), within the last five days the world has been brought to the brink (of what we are not quite sure) by something called "Swine Flu". At least, that's the impression you get when reading recent headlines. But as Sott.net readers know, there is always more to these episodes of mass hysteria than meets the eye!
Look further back into the month and you will see enough clues to figure out the nature of what we may safely call a World Government. Pay attention to details in the United States, the United Kingdom and elsewhere, and you may distinguish manufactured social and political conflicts. Consider it all within the context of Mother Nature's mysteries. Indeed, there is much to comment about this month. But, in the spirit of traditional journalism, let's start with the major headlines...