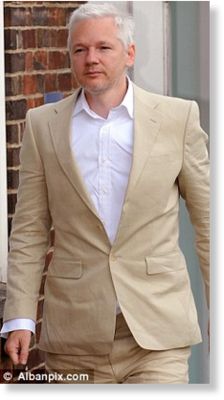 WikiLeaks founder Julian Assange is celebrating his 40th birthday - just two days before he fights attempts to extradite him to Sweden to face rape charges.
Among those said to be invited to the bash are Brad Pitt and Angelina Jolie and US
Vogue
editor Anna Wintour.
A huge marquee has been put up at Ellingham Hall, the 10-bed Norfolk farmhouse where he has been under house arrest for the past seven months.
Party invitations included instructions on where to land helicopters and private jets.
Assange has to report to the police station every day as well as wear an electronic tag
If he loses his extradition appeal in the High Court on Tuesday he faces being taken under police guard to Sweden, to fight allegations of rape and sexual assault.
The house and its 650-acre estate are owned by Vaughan Smith, director of the Frontline media club.
Mr Smith, who will be at the party, told the Independent: 'You're only 40 once.' Last week it emerged a £850,000 book deal Assange signed to write his memoirs had collapsed.