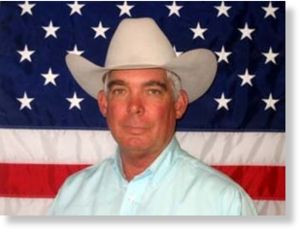 On Tuesday, night, Cochise County
Sheriff Larry Dever
was killed in a single vehicle crash while on his way to join his sons on a family hunting trip near White Horses Lake, according to the Coconino County Sheriff's Office (CCSO).
The
Tucson Sentinel
reports that an unidentified driver was actually following Sheriff Dever on the lonely Forest Service road, but lost sight of his 2008 Chevrolet pickup for a brief period.
Then, the driver "saw what appeared to be a cloud of dust, and as he came closer he learned that the vehicle had rolled over and was resting on its wheels."
The witness told 911 operators: "he did not detect any signs of life from the single occupant of the vehicle," according to a CCSO
press release
.
Sheriff Dever leaves behind a wife, six children and 11 grandchildren.