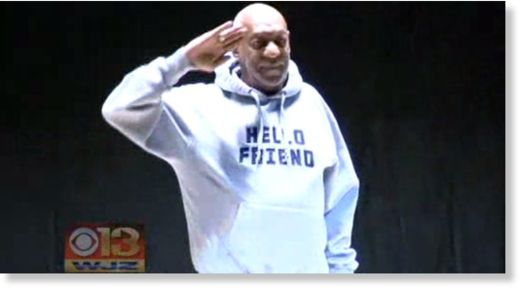 Appearing at Baltimore's Modell Center for the Performing Arts, comedian Bill Cosby followed the removal of a heckler accusing him of rape with an anecdote about sin, concluding, "Jesus would give you a little wiggle room."
The former television star has continued a stand-up comedy tour despite accusations of doping and sexually assaulting women, with
two more women coming forward
leveling accusations at the comedian on Friday, bringing the total to over three dozen.
According to the
Baltimore Sun
, Cosby fans were greeted outside the performing arts center on Friday night by protesters organized by the advocacy group SlutWalk Baltimore, holding signs and demonstrating against a man they described as a "serial rapist."
Cosby, who entered the half-full hall to a loud ovation, was 10 minutes into his routine when a man in the balcony stood up and yelled, "Thirty-eight women spoke up and called you a rapist. Thirty-eight women!"