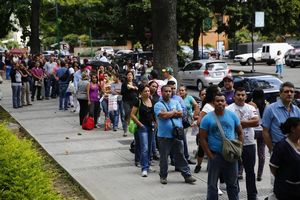 There's a booming new profession in Venezuela: standing in line.
The job usually involves starting before dawn, enduring long hours under the Caribbean sun, dodging or bribing police, and then selling a coveted spot at the front of huge shopping lines.
As Venezuela's ailing economy spawns unprecedented shortages of basic goods, panic-buying and a rush to snap up subsidized food, demand is high and the pay is reasonable.
"It's boring but not a bad way to make a living," said a 23-year-old man, who only gave his first name Luis, as he held a spot near the front of a line of hundreds outside a state supermarket just after sunrise in Caracas.
Unemployed until he tried his new career late last year, Luis earns about 600 bolivars, a whopping $95 at Venezuela's lowest official exchange rate but just $3.50 on the black market, for a spot. He can do that two or three times a day.
"There's a lady coming at 8 a.m for this place. She's paid in advance," Luis said, patting his wallet despite nods of disapproval around him. "I'll have a break and then maybe start again. I chat to people to pass the time, the conversation can be fun. If it's not, I play on my phone."