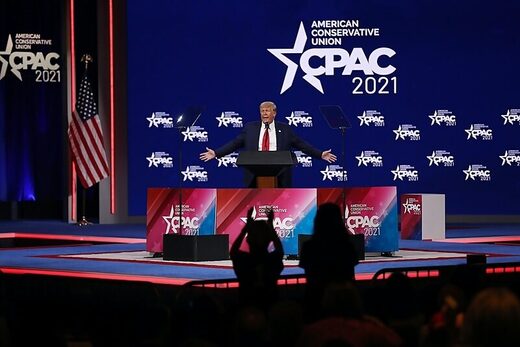 Note from Glenn Greenwald:
On Friday, a relatively obscure Twitter user with fewer than 7,000 followers — posting under the pseudonym MartyrMade — posted one of the most mega-viral threads of the year. Over the course of thirty-five tweets, the writer, a podcast host whose real name is Darryl Cooper, set out to explain the mindset that has led so many Trump supporters to believe that the 2020 election was fraudulent and, more generally, to lose faith and trust in most U.S. institutions of authority.

Numerous journalists, including me, promoted the thread as one of the most insightful analyses yet published explaining the animating convictions underlying the MAGA movement. That night, Fox News host Tucker Carlson devoted a seven-minute segment to doing nothing more than reading Cooper's thread. At the CPAC conference on Sunday, former President Donald Trump explicitly recommended the thread using Cooper's name. In the last four days, Cooper's Twitter account has gained more than 70,000 followers. Clearly, this thread resonated strongly with that political faction as a true and important explanation of how many MAGA voters have come to understand the world.

For our Outside Voices freelance section, we asked Cooper to elaborate on his influential thread, with a focus on what led him to these observations about prevailing MAGA sentiments and why he believes they are important for people to understand. As Cooper notes, he does not share all of the perceptions and beliefs he is conveying, although he shares many of them. Instead, based on the recognition that most media outlets are incapable of understanding let alone accurately describing the views of a group of people they view with little more than unmitigated contempt, condescension and scorn, he believes it is imperative that people understand the actual reality of what is motivating so many Trump voters in their views, perceptions and beliefs — regardless of whether each particular belief is accurate or not.

We also believe this understanding is vital, which is why we are happy to publish Cooper's essay. It should go without saying that, as it true of all of our articles published on Outside Voices -- which we treat as an op-ed page -- our publishing of this article does not signify agreement with all of its claims, but only our belief that it is a viewpoint worth airing.
By Darryl Cooper
I quit Twitter last August.
Quit for good. Other than posting links to two new episodes of my podcast, I stayed away for eight months and didn't regret a thing. Around mid-June I let myself be persuaded that social media engagement was part of having a podcast, so I dipped back in, promising myself I'd avoid being pulled into politics. Things haven't gone as planned.
The temptation was disguised cleverly as a conversation with a friend's mother. She was visiting from upstate New York and we got to talking while my buddy was in the house tending to my goddaughter. She's a hardcore Trumper from a less cynical generation that believes what she hears from sources she trusts. She'd been hounding her son about the stolen election all week, and he'd been trying to disabuse her of various theories involving trucked-in ballots and hacked counting machines. Now she had me cornered and put the question to me: "Do YOU think the election was legit?" So I told her the truth: I don't know.