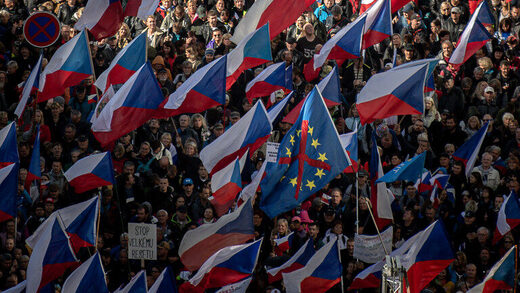 A crowd numbered in the
tens of thousands gathered in Prague on Wednesday to protest against the Czech government, NATO, and the European Union
. Demonstrators called for Czechia's neutrality and protested Prime Minister Petr Fiala's policy of sanctioning Russia, which has driven up energy prices.
Meeting on St. Wenceslas' Day - a public holiday celebrating Czech statehood - the crowd took to Prague's main square, named after the medieval saint, and chanted slogans against the EU, NATO and Fiala's cabinet.
Prague police would not give a specific figure of the estimated crowd size
, calling it only "tens of thousands."
The protest was organized by a group called 'Czech Republic First,' which Reuters described as a coalition of "far-right and fringe groups and parties including the Communists." CRF opposes the EU and NATO and has called for Czechia's military neutrality.
"A government has two duties: to ensure our security and economic prosperity. This government does not fulfill either of these duties,"
said one unidentified speaker at the rally, according to Reuters.