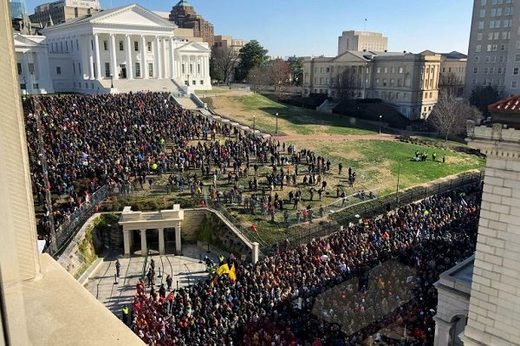 Law enforcement officials will be on high alert Monday as activists from around the country are expected to descend on Richmond, Virginia, to rally against the state's progressive gun control proposals.
Gun rights groups such as the Virginia Citizens Defense League and Gun Owners of America are planning a protest on the state's Lobby Day. Lawmakers in Virginia have proposed a ban on assault rifles and a "red flag" law, which would give officials the power to confiscate weapons from an individual who poses a threat, among other gun control measures.
Law enforcement officials and Gov.
Ralph Northam
warned that this planned show of force has put Virginians in danger. On Sunday, people sported signifiers for gun rights on the bumper stickers and clothing as they quietly filled into downtown Richmond ahead of the rally.
There were no overt signs of white supremacists or counter-protesters. On Monday, police will not be separating counter-protesters within the fenced area in Capitol Square, officers told ABC News.