Police State USA has been made aware of threatening letters being sent to parents by the government regarding their children's participation with compulsory medical and dental examinations. Under the auspices of keeping children healthy, the government has usurped the role of "parent" away from actual parents. The state - not legal guardians - is determining when and how children should be subjected to outside business influences.
The first letter was sent to Police State USA by a parent in New York State (NYS) "requiring" that his child be taken to mandated doctor visits. As the letter states:
NYS Education Law (Section 136.3) requires students to get medical exams when they start school and at certain grades. Exams may also be needed at other times chosen by your school.

To keep healthy, your child needs a complete physical at least once a year and a dental exam every six months.
In New York, after the unwanted examinations, the private medical exams are acquired by the government and filed under the child's cumulative school records.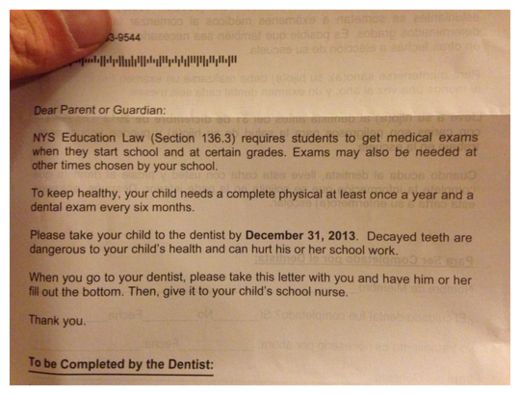 There are a number of problems with this policy, not all of which will be covered in this article. The state coercion and destruction of parental rights are most glaring. The provisions establish that the state has taken the final say in parenting matters, undermining parents' natural role in the child's life as protector and final decision maker. The provision invades the privacy of the family by giving the government access to private medical results.