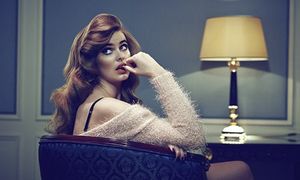 Once, only models were determined to make sure that their legs didn't touch. Now it has become a widespread, harmful - and often unachievable - obsession.
She may have modelled for Ralph Lauren and appeared on the cover of
Vogue Italia
, but when a photo of Robyn Lawley wearing a corset appeared on Facebook the responses were far from complimentary. "Pig", "hefty" and "too fat" were some of the ways in which commenters described the 24-year-old. Her crime? Her thighs were touching. Lawley had failed to achieve a "thigh gap".
The model, who has her own swimwear line and has won numerous awards for her work, responded vehemently below the line: "You sit behind a computer screen objectifying my body, judging it and insulting it, without even knowing it."
She also went on to pen a thoughtful rallying cry for
the Daily Beast
last week against those who attacked her, saying their words were "just another tool of manipulation that other people are trying to use to keep me from loving my body".