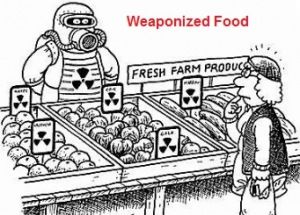 George Orwell -
"We may find in the long run that tinned (canned) food is a deadlier weapon than the machine-gun."
Michelle Jurkovich (George Washington University) -
"If starvation is cheap and requires low levels of technology, why not always use it?"
Food and its production has been a principle concern since the beginning of time. Governments monitor the food supply very carefully for the sake of national security. The fluctuation in the price of core goods can make life very hard for everyone. The poorest people in Haiti resorted to eating mud cookies and in Ireland the government is handing out free cheese as their economy crumbles under the burden of debt. Give us our daily bread because a hungry citizenry can bring a nation to ruin.
The Herald
-
"The aim of Operation Vegetarian was to wipe out the German beef and dairy herds and then see the bacterium spread to the human population. With people then having no access to antibiotics, this would have caused many thousands - perhaps even millions - of German men, women and children to suffer awful deaths."