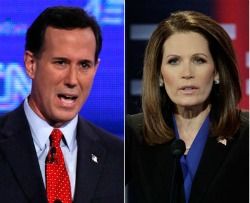 In an article about the reasons Rep. Michele Bachmann's campaign fizzled, the
Des Moines Register
points to "
sexism among conservatives
," singling out an offensive email written by a staffer to Rick Santorum:
Rival presidential candidate Rick Santorum's Iowa coalitions director, Jamie Johnson, sent out an email saying that children's lives would be harmed if the nation had a female president. [...]

"The question then comes, 'Is it God's highest desire, that is, his biblically expressed will, ... to have a woman rule the institutions of the family, the church, and the state?' " Johnson's email said.