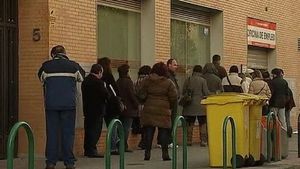 Spain's unemployment figure passed the five million mark in the last quarter of 2011, official figures show.
The National Statistics Institute said 5.3 million people were out of work at the end of December, up from 4.9 million in the third quarter.
The rate rose from 21.5% in the third quarter to 22.8% - the highest rate in nearly 17 years.
Spain already has the highest jobless rate in the 17-nation eurozone and is expected to slide back into recession.
The 22.8% rate is more than twice the average unemployment rate of the eurozone, which stood at 10.3% in November, according to data released earlier this month.