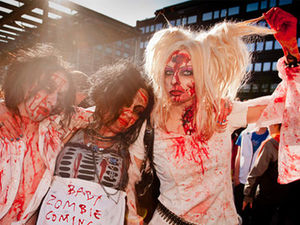 The US Center for Disease Control has been forced to address the American public in the wake of internet rumors of a possible 'zombie apocalypse".
It's hard to say which is more 'out there': that people believe there might be a virus that reanimates dead people, or that a federal agency actually weighed in on the issue in earnest.
The CDC has previously run a few tongue-in-cheek campaigns about zombies, using the popular theme to get the public prepared for "anything". As the agency's director says,
"if you are generally well equipped to deal with a zombie apocalypse, you will be prepared for a hurricane, pandemic, earthquake, or terrorist attack".
But it's now found itself in an unusual spot: having to treat the matter seriously. CDC spokesman David Daigle said the agency
"does not know of a virus or condition that would reanimate the dead (or one that would present zombie-like symptoms)".
But it's not reassuring the masses. Zombie conspiracies are bouncing around the Internet, becoming the third most-popular search term on Google - all after a number of unrelated, yet disturbing, incidents.