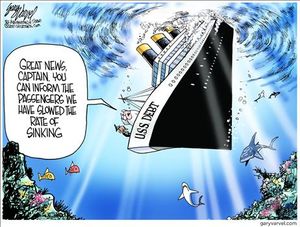 A gloomy U.S. jobs report and signs of a global economic slowdown hammered Wall Street Friday, wiping out the stock market's gains for 2012 and leaving investors wondering where to turn.
The Dow Jones industrial average sank 275 points
, or 2.2 percent, chalking up its biggest one-day drop in more than six months.
Market participants had expected to see a mildly negative employment report Friday, but they "hadn't discounted the kind of numbers we saw this morning," Barton Biggs, a hedge fund manager at Traxis Partners, told CNBC Friday.
Biggs also warned that the chance of a "mild double-dip recession" is now about 40 percent.
"I'm not that bearish about the economy and the market, but am I ready to step in in a big way? No," he said.