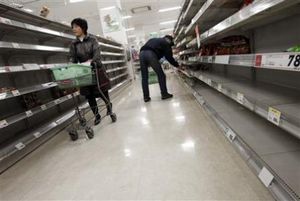 Areas of Tokyo usually packed with office workers crammed into sushi restaurants and noodle shops were eerily quiet. Many schools were closed. Companies allowed workers to stay home. Long queues formed at airports.
As Japanese authorities struggled to avert disaster at an earthquake-battered nuclear complex 240 km (150 miles) to the north, parts of Tokyo resembled a ghost town.
Many stocked up on food and stayed indoors or simply left, transforming one of the world's biggest and densely populated cities into a shell of its usual self.
"Look, it's like Sunday -- no cars in town," said Kazushi Arisawa, a 62-year-old taxi driver as he waited for more than an hour outside an office tower where he usually finds customers within minutes. "I can't make money today."