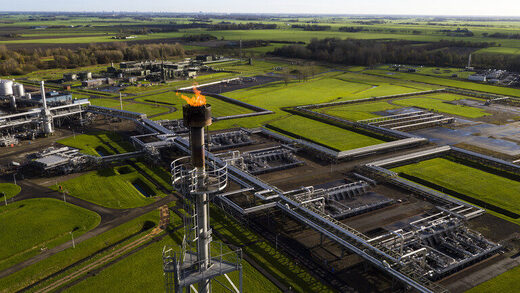 The Dutch government is set to stop production at the Groningen gas field later this year, the state secretary for the extractive industries, Hans Vijlbrief, told the
Financial Times
. The site is already producing only a fraction of its capacity, and it is "very dangerous" to keep operating it, according to the official.
"We won't open up more because of the safety issues.... I'm not going to do it because it means that you increase the chances of earthquakes, which I don't want to be responsible for," he told the news outlet.
"It's very, very simple: everybody who has some knowledge of earthquake danger tells me that it's really very dangerous to keep on producing [at Groningen]. I'm quite convinced it's wise to close it down," Vijlbrief continued.

Comment: A plausible explanation. But is it really that dangerous to continue the drilling that's been going on since 1963 and has been deemed acceptable up until this point, or is that just the excuse most likely to obscure the fact that yet another energy producer is cutting production at a time when it's most needed?


The official noted that he plans to shut down the site by October 1, but this will depend on whether the EU has enough gas after the winter. If necessary, the field might continue to operate until October 2024.
There is reportedly about $1 trillion worth of gas reserves at Groningen, which was opened in 1963 and produced over 50 billion cubic meters of gas at its peak ten years ago. However, because the extraction process led to earthquakes that threatened the homes of local residents, output was eventually cut.
Up to 100 drilling-induced tremors have been registered around Groningen annually since the 1980s, with roughly 160,000 claims for damage to property filed to date
, according to the
FT
.
The Netherlands came under pressure from EU authorities to boost production at the site last year, when a drop in supplies from Russia sent gas prices on the continent soaring to historic highs. Although the Hague rejected these calls, it did postpone plans to shut down the field. Its annual output was cut to 2.8 billion cubic meters (bcm), as producing more than 5 bcm would heighten the risk of earthquakes, Vijlbrief said.