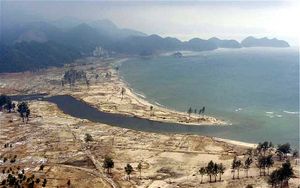 An Indonesian girl swept out to sea in the 2004 Boxing Day tsunami and long feared drowned has apparently turned up in her village and been reunited with her parents seven years later.
The girl named Wati, 15, who uses just one name, was ripped from her mother's grasp in the province of Aceh by the raging waters and has not been seen since.
But on Wednesday a friend of the girl's grandfather, Ibrahim, brought a teenaged girl in a headscarf to his house in the city of Meulaboh.
She had been discovered sitting in silence in a coffee bar, but when questioned she said that she had come by bus from Banda Aceh and was trying to find her way home and did not know how.