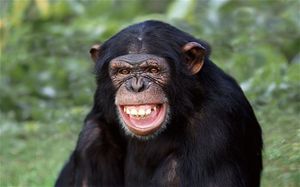 The man had been studying chimpanzee behaviour at the South African reserve of renowned British primatologist Jane Goodall when two of the animals dragged him for almost a kilometre, under a fence and almost a kilometre into their enclosure.
Paramedics said the man had been left in a critical condition after the "frenzied" assault, in which he suffered serious wounds and multiple bites.
Colleagues at the Jane Goodall Institute Chimp Eden near the city of Nelspruit in eastern South Africa said last night that they were "very upset" by the attack, the first in their six years of operation.
The centre was set up to rehabilitate chimpanzees rescued from circuses, zoos and the bushmeat trade across Africa.
It is presently home to 33 chimpanzees who are kept in large enclosures where they can be visited by tourists who pay £10 to join one of three daily tours.