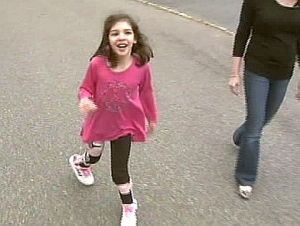 Washington - The Transportation Security Administration is once again the subject of national scrutiny, this time after aggressively screening a 7-year-old female passenger with cerebral palsy which caused her family to miss their flight.
The girl, identified as Dina Frank in a report by
The Daily
, was waiting with her family on Monday to board a flight departing from John F. Kennedy International Airport in New York headed to Florida.
Since Dina walks with the aid of leg braces and crutches, she cannot pass through airport metal detectors, and must instead submit to a pat-down by TSA agents.
Dina, who is also reportedly developmentally disabled, is usually frightened by the procedure. Her family reportedly requests that agents on hand take the time to introduce themselves to her.
However, the agents on duty at the time began to handle her aggressively instead.