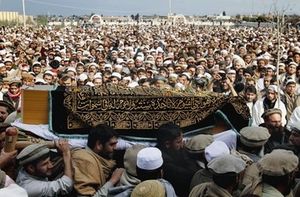 Following the death at Guantánamo last week of
Awal Gul
, an Afghan held for nine years without charge or trial, his body was returned to his home country, where 5,000 people attended his funeral on Monday in the Najmul Jihad area of Jalalabad. With typical insensitivity, the US authorities responded to Gul's death - apparently as the result of a heart attack after taking exercise - by claiming that he was "an admitted Taliban recruiter and commander of a military base in Jalalabad," who "at one point allegedly operated an al-Qaeda guesthouse" and also admitted meeting with Osama bin Laden "and providing him with operational assistance on several occasions."
These allegations were greeted by one of Gul's lawyers, W. Matthew Dodge, as "outrageous" and "slander," and the
New York Times
, which picked up on Dodge's complaints, along with
Reuters
, noted that Dodge "said that his client had resigned from the Taliban, and that in three years of litigation, the government never claimed or pointed to any evidence that his client had run any Qaeda house or admitted providing support to Mr. bin Laden."