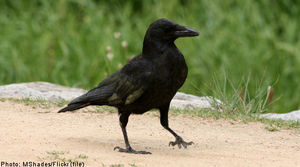 A golf club in southern Sweden is planning to hunt the crows on their course after a violent spate of attacks and thieveries have left golfers in fear.
Golfers at the Rya Golf Club in Rydebäck, southern Sweden, have been subjected to a swarm of attacks from angry birds which are both hungry and breeding.
"This year, they actually attacked our guests for the first time," the club's receptionist, Annika Hermansson, told
The Local
.
"The crows have always come down looking for people's food, but they are getting vicious this year."
Hermansson claims that around 10 people have complained of attacks, one of whom compared his ordeal to a horror film.