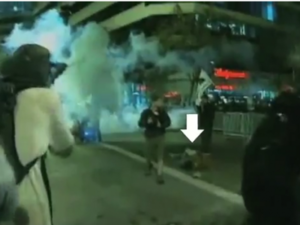 Scott Olsen survived two tours of Iraq, but his life could be over after being critically injured by a police projectile at Occupy Oakland,
The Guardian
reports
. He's 24 years old.
As we know, Occupy Oakland got incredibly ugly this week as
police tried to remove protesters
from their camp in front of City Hall by using tear gas, fire crackers, and rubber bullets.
Olsen suffered a head injury on Tuesday night, and is now in critical condition in Oakland's Highland Hospital. Jay Finneburgh, a photographer on the scene, managed to witness and take pictures of the incident.
Police policy specifically prohibits the firing of these weapons at a person's head
.
"This poor guy was right behind me when he was hit in the head with a police projectile. He went down hard and did not get up," Finneburgh wrote.