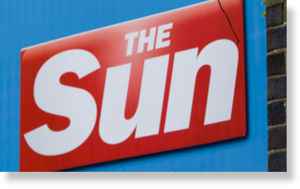 A journalist at the tabloid
The Sun
was arrested Friday on suspicion of making illegal payments to police officers, a sign that a scandal has spread beyond
The News of the World
to other papers in Rupert Murdoch's British media empire.
The suspect, a 48-year-old man, is the sixth person to be arrested in Scotland Yard's investigation into illegal payoffs by newspapers to police officers in the wake of the
phone hacking scandal
at
The News of the World
. He was arrested outside London "in connection with allegations of corruption," the police said, and taken to a police station in southwest London for questioning.
The police would not identify the man, but
News International
, the British newspaper arm of Mr. Murdoch's media conglomerate, said in a statement that he was a
News International
employee, and people at the company have identified him as Jamie Pyatt, a senior journalist at
The Sun
, the Murdoch-owned tabloid that is the most popular daily newspaper in Britain.
The arrest suggests that payoffs to the police may have extended beyond
The News of the World
, which was closed by Mr. Murdoch in July in an effort to contain
the scandal
, to other parts of the Murdoch newspaper stable. Mr. Pyatt is the first journalist not employed by
The News of the World
to be arrested in connection with the police corruption case; he has been at
The Sun
for more than 20 years and has never worked at
The News of the World
.