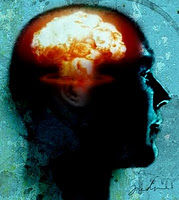 Each day around this nation, and indeed the world, one can find endless stories of horrific animal cruelty---torture and murder so vile it defies imagination---conceived of and carried out by kids as young as 3 years old. There appears to be a proliferation of fresh-faced psychopaths, spawning faster than the poisonous spores of a Frankenstenian experiment gone awry. Why and how does such evil take root?
The problem is pervasive and multifaceted, but the most obvious cause for such blatant disregard for life is a lack of compassion and empathy passed on from parent to child. Generations of individuals perpetuating cruelty toward non-humans based on a multitude of flawed and erroneous notions, including the following:
Religious bias

-- The mainstream and exceedingly rancorous belief that animals were put here to [ab]use, objectify, murder and consume based on twisted religious doctrines which purportedly give mankind "permission" to do so predicated on his so-called "superiority."

Tradition

--- The mindless argument that because generation upon generation have perpetuated acts of barbarism, these acts are somehow justified, and therefore should be unquestioningly accepted and permanently sanctified.