Oakland, Calif., police in riot gear stand guard after firing tear gas, beanbag rounds overnight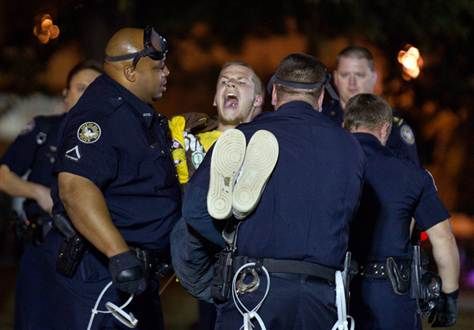 Police moved into a downtown Atlanta park and arrested around 50 Occupy Wall Street protesters who had been encamped there for about two weeks early Wednesday, while across the country in Oakland, Calif., officers in riot gear stood watch after clashes there with demonstrators overnight.
The scene was calm but tense early Wednesday in Oakland, where only a few dozen stalwart demonstrators remained in the aftermath of skirmishes in front of City Hall. Police deployed five volleys of tear gas in blasts that seemed to intensify with each round over a roughly three-hour stretch of Tuesday evening scuffles, causing some protesters to douse their eyes with water and even vomit, NBC affiliate KNTV in San Francisco reported.
Officers also fired beanbag rounds, clearing out the encampment of protesters in less than an hour.
The site was among numerous camps that have sprung up around the country as protesters rally against what they see as corporate greed and a wide range of other economic issues. The protests have attracted a wide range of people, including college students looking for work and the homeless.