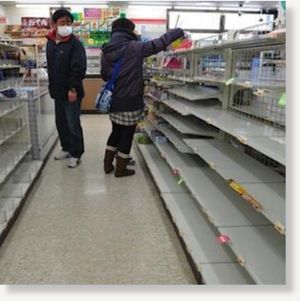 Officials with Japan's nuclear safety agency said early Sunday morning there is an emergency at another nuclear reactor at a quake-hit power plant. The agency says the cooling system at the number three reactor at the Fukushima nuclear power plant is offline and could possibly explode, following Saturday's blast at the plant's number one reactor.
Reports quoting government officials say up to 160 people may have been exposed to radiation. Meanwhile, residents in the country's northeast are struggling to find food and clean water.
Aftershocks continued to hit northeastern Japan Sunday, several days after a 8.9-magnitude earthquake and resulting 10-meter-high tsunami devastated the coastline.
VOA Correspondent Steve Herman is near the power plant. He says locals are complaining that the authorities are not giving them accurate information about the situation fast enough. "One of the things the authorities are trying to do is not have any panic spreading among people, but information about what is happening is coming out of Tokyo not Fukushima," he said.