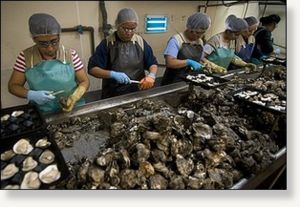 Sales of Gulf of Mexico seafood are getting a boost from the military after being hammered by last year's BP oil spill, which left consumers fearing that the water's bounty had been tainted.
Ten products, including fish, shrimp, oysters, crab cakes, and packaged Cajun dishes such as jambalaya and shrimp etouffee are being promoted at 72 base commissaries along the East Coast, said Milt Ackerman, president of Military Solutions Inc., which is supplying seafood to the businesses.
Gulf seafood sales fell sharply after a BP gulf well blew out in April, spewing millions of gallons of oil into the sea. Consumers have long feared that fish, oysters and other products could be tainted by oil and chemicals used to fight the spill, although extensive testing has indicated the food is safe. The perception has lingered - along with the poor sales.
Bobby Barnett, a shrimper in Pass Christian, Miss., said he was glad the U.S. government was embracing domestic and not imported seafood.
"Every sale helps us out, and we need some help to come back," Barnett said. "You would have thought they would have been buying U.S. seafood all along."
The Defense Department-run Defense Commissary Agency - known as DeCa - sells groceries to military personnel, reservists, retirees and their families at cost plus a 5 percent surcharge. The stores have emphasized healthy diets as part of first lady Michelle Obama's "Let's Move" fitness and health campaign.