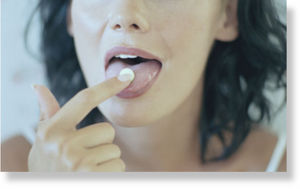 Pharmaceutical firms accused of trying to turn women's loss of desire into a condition treatable with pills.
Drug companies are today accused of attempting to turn the loss of sexual desire that some women experience into a medical condition that can be treated by pills.
Although drugs, from antidepressants to variants of Viagra, have been found ineffective, the companies are charged in
an article
in the
British Medical Journal
with inappropriately trying to create a market for pills to treat a condition that is as much psychosocial as biological, and which may need the intervention of a relationship counsellor as much as a doctor.
Ray Moynihan, a journalist and lecturer at the University of Newcastle in Australia, argues in the
BMJ
that a variety of drug companies have tried to construct a scientific basis for medical treatment for women's loss of libido, running surveys that purport to find that it is widespread and devising ways to diagnose the condition.