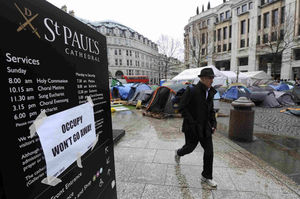 After winning a High Court injunction, police move in to dismantle the Occupy London site outside St Paul's Cathedral.
Police and bailiffs began evicting British occupy activists from a protest camp outside St Paul's Cathedral in London in the early hours of Tuesday morning.
Occupy London was last week
refused permission to appeal
against a High Court decision to allow their eviction to proceed.
The Court of Appeal's decision meant the City of London Corporation was free to clear the site.