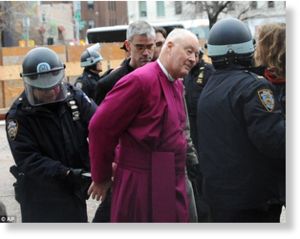 A retired Episcopal Church bishop and at least two other Episcopal priests were arrested on 17 December after they entered a fenced property owned by historic Trinity Episcopal Church in Lower Manhattan as part of an event to mark the three-month anniversary of the anti-corporate Occupy Wall Street movement.
Livestream video showed George Packard, former Episcopal bishop for the armed forces and federal ministries, dressed in a purple robe and wearing a cross, climbing a ladder that protesters erected against the fence and dropping to the ground inside the property, called Duarte Park. Other protesters followed, including the Rev. John Merz and the Rev. Michael Sniffen, Episcopal priests in the Diocese of Long Island (New York), Episcopal News Service (ENS) reports.
Police entered the area and arrested at least 50 people. Merz reportedly was arrested with Packard. Sniffen later confirmed that he had been arrested. The clergy were later released.