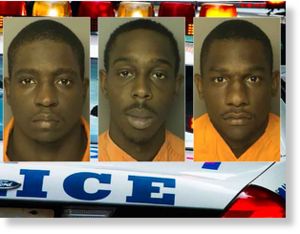 Loris, South Carolina - Three men are facing charges after reportedly robbing an Horry County family who were decorating their home for the holidays.
The Horry County Police Department charged 19-year-old K'Shawn Aldontay Morris with armed robbery, burglary, resisting arrest, unlawful carrying of a pistol and six counts of kidnapping.
Investigators also charged 21-year-old Maurice Alexander Morris and 21-year-old Troy Tereal Gibson with armed robbery and resisting arrest.
The victims said they were decorating the family Christmas tree Saturday night when three masked, armed men entered their Loris home on Camp Swamp Road Saturday night.
According to the victims, the three suspects held them at gunpoint and forced them to get on the ground while they ransacked their home. A police report states that the suspects separated the parents from the children before robbing them and stealing one of their vehicles.
Authorities say the suspects also stole an Xbox 360, Kinect, two jewelry boxes with jewelry, two men's watches, a portable DVD player, medicines, and cell phones.