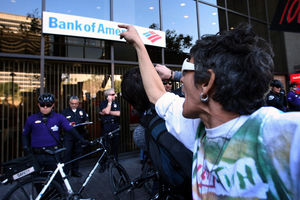 Yes, The Big Banks DO Care If We Move Our Money
650,000 customers moved $4.5 billion dollars
out of the big banks and into smaller banks and credit unions in the last month.
But there is a myth making the rounds that the big banks don't really care if we move our money. For example, one line of reasoning is that no matter how many people move their money, the Fed and Treasury will just bail out the giants again.
But many anecdotes show that the too big to fails do, in fact, care.
Initially, of course, if the big banks really didn't care, they wouldn't have
prevented protesters from closing their accounts
.