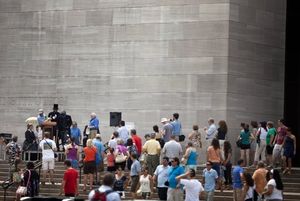 Protesters clashed with security staff when they tried to enter a museum in Washington on Saturday, prompting one guard to use pepper spray and leading to at least one arrest, a spokeswoman said.
The incident occurred at The Smithsonian's National Air and Space Museum around 3:15 pm (1915 GMT), after hundreds of activists had marched from Freedom Plaza, near the White House, along the National Mall towards the US Capitol.
Some of those in the demonstration were affiliated with the Occupy DC protest group that sprung up earlier this week as a spin-off of the larger Occupy Wall Street movement in New York, angered at "corporate greed."