A grand jury in New York has returned a new indictment against Indian diplomat Devyani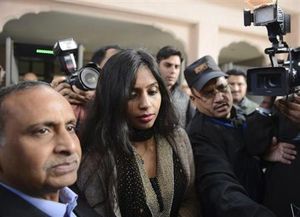 Khobragade for visa fraud, two days after a U.S. judge dismissed a similar indictment because she had diplomatic immunity.
Khobragade's arrest in December and a subsequent strip search drew outrage in India, causing a major diplomatic rift between the United States and India.
The United States granted her immunity and then essentially had her expelled from the country in a flurry of diplomatic maneuvers on January 9, the same day she was indicted for the first time.
"Unfortunately, I can have no comment at this stage," Khobragade's lawyer, Daniel Arshack, said in an email. "The government of India will respond in due course."
The new indictment effectively returns the case to where it was before Wednesday's dismissal.
U.S. District Judge Shira Scheindlin ruled on Wednesday that Khobragade, who was India's deputy consul-general in New York, had diplomatic immunity when she sought on January 9 to dismiss the indictment, and thus could not be prosecuted for alleged underpayment of her nanny.