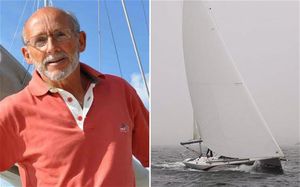 A French solo sailor adrift for days in a life raft in the Southern Ocean after his yacht sank has been rescued by the crew of an Antarctic cruise ship.
Alain Delord was attempting to sail solo and without assistance around the world when his yacht, Tchouk Tchouk Nougat, was damaged in rough weather off southern Australia's Tasmania island on Friday.
The Frenchman was forced to abandon ship and has been adrift in a life raft on the Southern Ocean for more than three days.
An
Antarctic
cruise ship carrying 100 passengers was diverted about 1,118 miles to his assistance and had battled deteriorating weather conditions to reach him before sunset, with fears he would have to spend a third night at sea.
But the Australian Maritime Safety Authority (AMSA) said the Orion ship managed to find Delord and pluck him to safety.