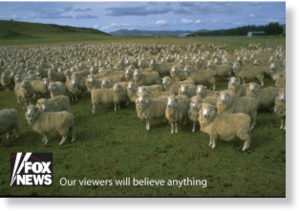 Fox News Channel extended its cable news winning streak to 145 consecutive months with the release of January ratings. In overall audience FNC outstripped CNN and MSNBC combined in prime and in total day; it also led in the news demo, though by smaller margins.
With total viewers, FNC landed in the Top-5 among all cable networks in total day, while CNN and MSNBC settled for No. 38 and No. 29, respectively, and HLN clocked in at No. 47. In prime, FNC finished January at No. 7, CNN at No. 40, MSNBC at No. 30, and HLN at No. 46.
In primetime, only HLN grew year to year, in the demo - 6%, to 123,000 viewers. That said, FNC, at a leading 264,000 viewers, was down just 1% in the demo in primetime. CNN plunged 35% to 131,000 viewers in the age bracket, and MSNBC slid 2% to 231,000 viewers. In total day in the demo, HLN grew 11% to 101,000 viewers, besting CNN's 98,000 - a 27% drop. MSNBC fell 8% to 148,00 viewers, while FNC grew 5% to lead the pack with 220,000 viewers.