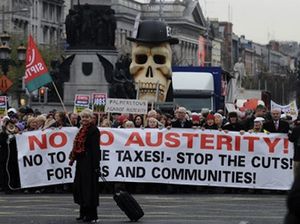 The Dublin government's fiscal 'kite flying' season is well and truly underway ahead of next month's annual 26-County Budget announcement.
Measures already signalled and likely to be included in the spending plans for 2013 are an annual property tax of around 300-500 euro per home, and a universal cut in child benefit.
Other elements being leaked by government officials include a hike in motor tax, a 'fat tax' or 'sugar tax', and an increase in the duty on the 'old reliables' - alcohol and cigarettes.
Unions on the wrong side?
Over 15,000 marched on Saturday in a demonstration against the government's unrelenting austerity measures, which once again look set to hit the most vulnerable the hardest.
Michael O'Reilly, president of the Dublin Council of Trade Unions (DCTU), which co-organised the event, said it was just one step in a long campaign to reverse cutbacks.