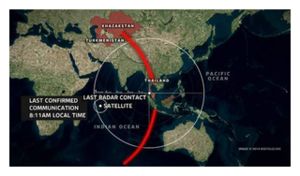 The missing Malaysia Airlines plane carrying 239 people could have been on the ground when it sent its last satellite signal, an official has said.
US intelligence is focusing on the
pilot and co-pilot's possible role in the plane's disappearance
and are worried it may have landed somewhere to be used later as a weapon.
The Boeing 777-200's final 'ping' was picked up nearly seven hours after the flight vanished from air traffic control screens.
At first it was thought contact was lost less than an hour into its flight from Kuala Lumpur to Beijing on March 8.
But now investigators say a 'ping' was detected from one of two air corridors going north and south from the sea off Malaysia.
One is a northern route stretching thousands of square miles from northern Thailand to Kazakhstan and the other is a southern zone from Indonesia towards the southern Indian Ocean.