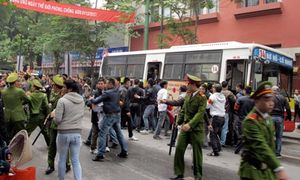 Police disperse demonstrators as tensions rise over communist neighbours' claims to South China Sea
Vietnamese police broke up anti-China protests in two cities on Sunday and detained 20 people in the first such demonstrations since tensions between the communist neighbours flared anew over rival claims to the oil and gas-rich South China Sea.
Any sign of popular anger in tightly controlled Vietnam causes unease among the leadership, but anti-Chinese sentiment is especially sensitive. The country has long-standing ideological and economic ties with its giant neighbour, but many of those criticising China are also the ones calling for political, religious and social freedoms at home.
Police initially allowed about 200 protesters to march from the Opera House in Hanoi through the streets, but after 30 minutes ordered them to disperse. When some continued, police arrested about 20 demonstrators and put them into a large bus that then drove quickly from the scene. It was unclear where they were taken, but in the past people detained at anti-China protests have been held briefly then released.